Blog
Wine weekend in Młyn Klekotki (Mazurian Lake District)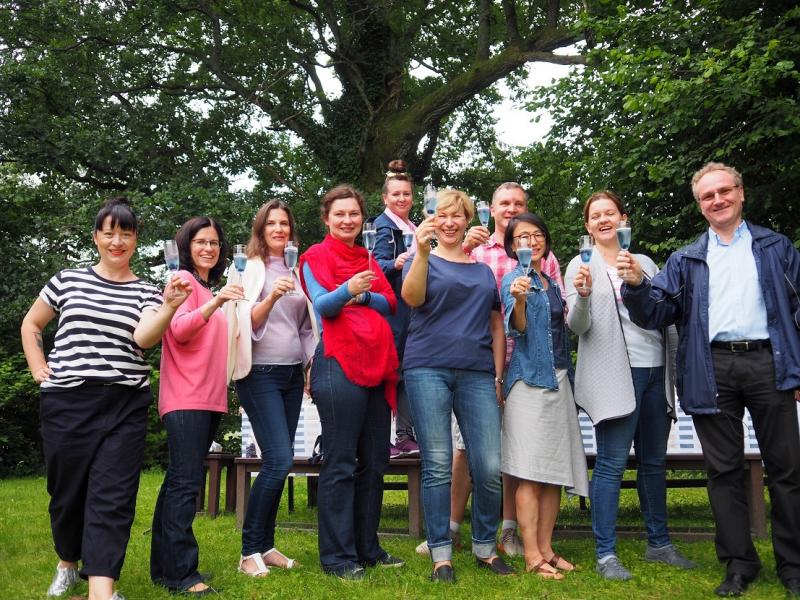 We invited our befriended group of Wine Lovers  for a 2 day-weekend at the beautiful Hotel and SPA Resort called Młyn Klekotki in Mazuria region. The plan was to organize a perfect wine weekend escape and to show our guests this part of Poland: green, peaceful, dazzling with lakes. And Młyn Klekotki itself is a place worth visiting. Located in the very picturesque part of West Masurian Lake District, the hotel is placed is the 17th century watermill which was converted into hotel (bedrooms, suites, conference rooms) and Sento Spa. Beautiful natural gardens with unique plane-trees, rhododendrons and Japanese maples are a habitat for beavers, badgers, reindeers and cranes. The hotel restaurant offers delicious food and great selection of wines. Guests have a choice of different activities: guided Nordic walking tour in the forest, exploring lakes area or choose one of many SPA treatments.
Our guests arrived separately on Friday evening and we had dinner together at the restaurant. We finished the day quite late, which is always a good sign of great atmosphere. The morning was warm and some of our group decided to do Nordic walking activity while others preferred to relax at SPA or disappeared exploring beautiful, full of lakes neighbourhood.
Our wine mentor, Izabela Kamińska arrived in the early afternoon, bringing a very special wine selection. We decided to organize a tasting outdoors, preparing tables under 300-years-old oak tree, from where we had a fantastic view on garden and a Sento SPA building. The chef prepared for us selection of local cheeses, appetizers and delicious bread, all this was delivered to our under-the-oak tasting venue and Iza Kamińska started the wine tasting, taking us on a very personal trip as each of selected wines had a personal story attached to it.
Our guests enjoyed enormously the place, the wines, the food and the story, as usual helping us to make the event unforgettable and unique.
Later, before it went dark, we went to the restaurant for dinner. Laughter and talks finished again pretty late.
On Sunday morning, after breakfast – our last common activity – we said goodbye to some of the guests, as some were coming back with us to Warsaw. We had a last short stop in Olsztynek, to buy recommended famous Polish blueberry buns.