Blog
Piedmont: time for whites - Timorasso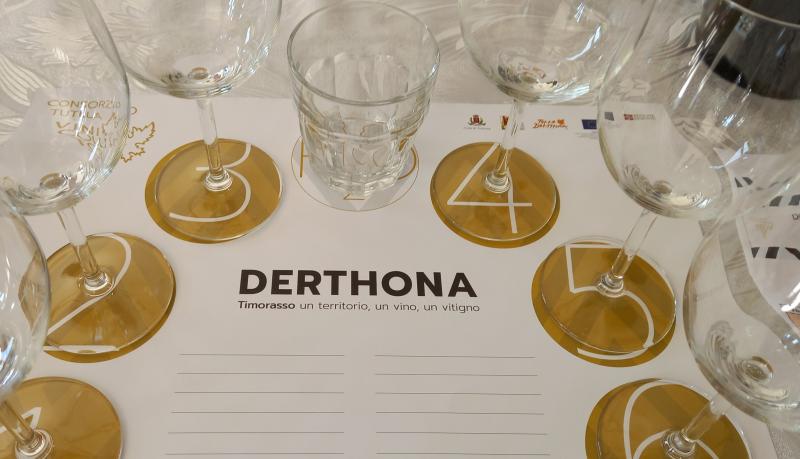 What are your first memories of travelling through Italy? Mine are of the hills and valleys, navigating narrow and very winding roads, somehow always going up. And although the hills and valleys may be smaller or deeper depending on the region, where I usually go the countryside is covered with vineyards – this view never gets boring, especially when you can spot a small village sitting on steep slope between the vines or a medieval castle flashing between the trees.
For most of us, when we think about Piedmont wines, what comes to mind straight away are the aromas of the famous local reds, Barolo or Barbera. They are elegant, full-bodied wines with notes of roses, violets, red cherries and undergrowth in the case of Barolo, while the Barbera has fresher, more strawberry and sour cherry notes.
But Piedmont does have great white varieties as well, some of which have been forgotten for many years, and most of which are still undervalued.
Earlier this spring, I had the chance to watch a webinar held by Robin Kick, Master of Wine, about the forgotten and rediscovered indigenous grape varieties growing in Piedmont, including a few interesting white varieties (e.g., Arneis, Nascetta, Timorasso, Erbaluce). Inspired by this workshop, I started to search for more information about the grape varieties that had been rediscovered in Piedmont, as many of them were unknown to me. So, when I was invited to a press trip to Piedmont in June organized by I Vini del Piemonte and saw the program, I was thrilled to notice that we will be tasting wines made from the Timorasso grape variety on the last day.
We arrived at the tasting venue located in the Colli Tortonesi area, in the province of Alessandira, the most eastern part of Piedmont. In Roman times the capital of this area, Tortona, was called Derthona. This ancient name is important for winemakers, so keep it in mind for now.
Today the area is known for its wide range of truffles - here alone you can find white, black and scorzone truffles – and of course for its wine production. The Colli Tortonesi DOC covers 46 villages and two sub-zones: Monleale and Terre di Libarna. The most popular grapes are Barbera, Dolcetto, Cortese, Moscato and Timorasso, all originating from the Piedmont region, with Timorasso growing practically only in Colli Tortonesi.
Timorasso, like many other indigenous Italian grape varieties, had been forgotten for many years until one stubborn, charismatic and visionary winemaker, Walter Massa, rediscovered the grape in the late 80s. When he started to experiment with Timorasso, this grape variety covered only 0.5 hectares in the whole region. Soon, other young winemakers from the area – like for example Elisa Semino from la Colombera winery - also decided to plant this almost extinct white grape variety. Today, Timorasso vines grow on 216 hectares, on different soils, allowing winemakers to create different styles of Timorasso wines: from more mineral (in the limestone and fossil marls soils in the central part of the region) to full-bodied (clay marls and calcareous soils in the north); and more elegant (lighter wines made in the south).
Timorasso is an old grape variety (it was first mentioned in documents dating back to the 13th century). It is not an easy variety to cultivate (before global warming its grapes had difficulty ripening properly) and its yield is not as high as Cortese (another Piemontese white variety). Timorasso grapes have a thick skin, are rich in sugar and are susceptible to botrytis (noble rot).  It is an aromatic grape variety,  younger wines in particular show floral or fruity aromas, sometimes with a hint of herbal and honey notes; and those aromas we find on the palate – apricot and apple flavours accompanied with bright acidity. With age, wines made from Timorasso develop notes of dry fruits and honey, and a light spiciness and pleasant mineral complexity can be tasted. Timorasso gives full-bodied wines with a complex structure and pleasant acidity which makes it easy to pair them with many types of dishes, including meat. They also age well for several years.
The potential of this variety and the fact that it is practically unknown outside of Italy, has inspired winemakers to experiment with this grape, looking for the most interesting styles, observing how the wine evolves over time. Winemakers choose for vinification and aging different type of vessels, including stainless steel or cement vats, or acacia wood. Some of them start the fermentation process with cryo-maceration; some leave the wine to age on lees for many months, using the bâtonnage technique to add extra texture and more flavour.
The result can surprise – a multi-layered mixture of flavours, structure and versatile character. This is why more and more winemakers decide to plant Timorasso on their land, including wine producers from different areas of Piemonte, like Giacomo Borgogno, Vietti, La Ghersa, La Spinetta or Pio Cesare, who decided to purchase vineyards in the Colli Tortonesi area and plant Timorasso, considering it a white alternative to their great red wines made from Nebbiolo or Barbera. Why don't they just plant Timorasso in their vineyards in other parts of Piedmont? The simple answer is "the microclimate and terroir". But that, of course, can change one day, taking into account a potential increase in the recognition of Timorasso variety, experimental nature of Italian winemakers or maybe even future climate change.
The winemakers associated in the Colli Tortonesi DOC are determined to make Timorasso a well-known and appreciated grape variety, realising its potential to age and ability to provide beautifully structured wines. They decided to request the registration of new appellation, only for wines made from Timorasso grapes, and selected the historical Roman name "Derthona" for this new appellation (the registration process is ongoing).
Tasting 34 wines made from Timorasso in one morning session can be a challenge, but it is also not every day that you have the opportunity to get to know the potential of one grape variety, especially when you have the chance to compare different vintages from the same winery. The oldest presented wine was from 2005, the youngest from 2019, as wines made within the Colli Tortonesi appellation have to age for a minimum for 12 months before being released to the market.
We tasted many very good wines that morning, but I will only mention a few which suited my personal taste – of course, I would like to taste these wines again, at my own pace, with friends, enjoying a food-wine paring and observing how the wine develops with each glass.
Vietti – a producer specializing in Barolo wines (appellation Castiglione Falletto) – presented 2019 Timorasso is their second vintage and I found it nicely balanced, with floral and fruity accents with hints of honey and with layers of flavours. It would be great to see how this wine develops over time.
La Colombera – one of the first wineries which started to plant and make wines from Timorasso in the 90ties. Both wnes from 2018, Derthona and Montino, are elegant, the first with slightly salty, mineral notes (which I personally like a lot) and a long finish; the second (grapes from single Cru at altitude of 250 m) has very interesting finish with fresh and candied fruits.
I Carpini – this organic and holistic winery presented different approach to Timorasso: full-structured, unfiltered wines with deeper colour and tannins and aroma quite characteristic for skin-contact-wines.
Pomodolce – for their 2017 vintage they selected the best grapes, harvested from lower and higher parts of the vineyard (different terroir). Both their wines are very clean, with notes of apricots, mango and honey. I liked how this wine lingered on the palate.
Cantine Volpi – The 2019 vintage with fresh fruity and mineral nose, and I could feel very light tannins on the palate. The 2016 vintage kept fresh fruity aromas, and the palate developed complex minerality with light and pleasant saltiness. It was the first year in which they tried a new vinification process, using short cryo-maceration. The wine spends more than 18-20 months on lees. After bottling, the wine is aged for another 2 years before being released to the market.
Ezio Poggio – my notes say "light and pleasant wines with well-balanced acidity and structure". The 2019 wine has more floral aromas, while the 2015 vintage developed more herbal notes.
Montagnola – a micro-producer presented two Timorasso wines, the second from 2009 has a deep golden colour, still fresh fruity aroma and creamy structure.
La Ghersa/Massimo Pastura – we tasted two of their Timorasso, young and fresh 2019 vintage (the whole potential of this wine will show in couple of years) and 2007 Timian Timorasso which is an interesting example of how wines made from Timorasso can develop, even if 2007 was very difficult, extremely hot vintage, so the freshness of aromas in the grapes was compromised by this hot temperature. 14 years later you can feel that this wine lost its freshness a little, but it is still pleasant enough.
Mariotto Claudio – their Grand Cru vineyard is located on land which a hundred thousand years ago was covered by sea, so the terroir is very particular. Their 2006 Timorasso made from 25-year-old vines is another example of how older Timorasso wines can beautifully develop minerality and structure, showing light tannins and maintaining fresh aromas.
Master of Wine (MW) – A qualification issued by The Institute of Masters of Wine in the United Kingdom. Since 1955 it is generally regarded as one of the highest standards of professional knowledge in the wine industry.
I Vini del Piemonte, an association (il consorzio) supporting 230 wine producers from the Piedmont region in wine promotion inside Italy and abroad.
Colli Tortonesi area is a part of Piedmont wine region; Colli Tortonesi DOC – an appellation.
Cryo-Maceration is a technique used to improve the extraction of colour, flavour, and tannins from the skins of grapes. Freshly harvested grapes are destemmed, then taken to the freezer where large, slow-forming ice crystals weaken the cellular structures containing the tannin, pigment, and flavour. Once defrosted, the subsequent fermentation can extract much more of these critical compounds than conventional fermentation.
Bâtonnage technique - the French term for stirring settled lees back into wine (the baton is placed in the top opening of a barrel and gentle rotated within the barrel to stir the wine).