Blog
Autumn tasting at Kamil Barczentewicz's winery
Written by:
Anna Kruszczyńska, zdjęcia Stories Uncorked i Anna Pławińska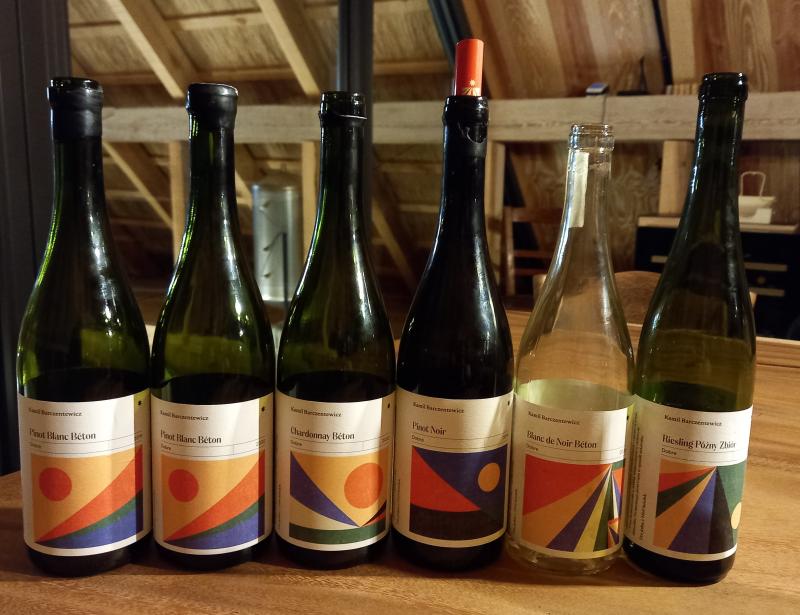 There is something magical about visiting vineyards in the late summer or autumn when the vine bushes are shimmering with the colours of the leaves and the ripe grapes. On the way to Dobre near Kazimierz Dolny, where Kamil Barczentewicz's vineyard is located, we pass some small hills where meadows and forests sparkle with all of the colours of the autumn palette. In some villages, houses made of the local white stone form a coherent, attractive whole, as Michał Sobieszuk, our guide, points out.
The winery created by the Barczentewicz family is well designed and visually appealing. Built of stone and wooden elements, the building is covered by a thatched roof. The wine cellar is on the ground floor, while upstairs there is a spacious tasting room with a glass wall providing a view of the vineyards down the road. On the other side of the room, through the transparent floor we can see fermenting vats in the room downstairs. It is picturesque, idyllic, and peaceful.
Kamil and his employee, Jarek, take us to the vineyard in an old off-road car, which is an adventure in itself, as the road leads through grooves made in the limestone rock by the falling rains. The hill offers a beautiful view of the vineyard, houses, copses and the vineyard of another winery, Skarpa Dobrska. The sun has finally broken through the nostalgic autumn greyness and there is interesting light - perfect for taking photos of the vines against the dramatic sky. There are still quite a few ripe – or on closer inspection overripe - bunches on vines in various shades: greenish Chardonnay grapes, Gewürztraminer with dark pink skins and dark blueberry-like Pinot Noir bunches. Many grapes are covered with the so-called noble rot[i]
- We have 12 hectares of vineyards and 30% is covered with Pinot Noir. Apart from that we also cultivate Chardonnay, Pinot Blanc (Weissburgunder), Gewürztraminer, Regent
and Blaufränkisch – explains Kamil and adds - Blaufränkisch covers only 66 ares, but at the moment it's the biggest Blaufränkisch vineyard in Poland.
- The grape I would like to focus on is Pinot Noir. We planted six different clones of it, mainly French and German, and one Austrian selection. What is important here is, because it affects the differences in fruit quality, that the Pinot Noir clones are planted on different vegetative rootstocks and in different parts of the vineyard. Here, for example - Kamil points to the rows we are standing by - we have Pinot Noir planted on sandy loam soil, but most Pinot Noir vines grow on a slope which is predominately limestone.
Comparing the size of the fruit and the colour of the skin of different varieties and tasting grapes straight from the bush gives an almost childlike joy, an anticipation of the final result of the winemaker's work. Gewürztraminer in particular has a distinctive, rose-like flavour with peppery notes. Most of us probably had our first opportunity to taste grapes covered with noble rot, some of which had already dried like sultanas. I am immediately reminded of the French film "Premier Cru" with one almost magical scene in which the main character, biting into the seeds of ripe Pinot Noir grapes, tries to sense whether it is already the day to harvest, or whether they still have to wait a day or two. Of course, this is a romantic vision, the reality is more complex and uses modern technology.
- Pinot Noir is doing well on this terroir, although in difficult years like this one, when there was a lot of mould, I won't make much wine from this vintage. - says Kamil - Apart from the rain, there were also strong winds this year. Diseases such as powdery mildew begin to attack the vines at the bottom of the vineyard and when the wind from the lower parts carries the disease to the higher parts, we only have two solutions available to stop the infection: cut back the growth affected by the disease or spray. As we are an organic vineyard, we can only act superficially, on the surface, using copper or in a rainy year like this one, we can also spray them with potassium carbohydrate[ii]. This is the second substance allowed in organic farming and it dries out the mycelium itself (mildew), without affecting the grapes.
2021 has not been an easy year for farmers and winegrowers, and not only in Poland. In some places the harvest is still ongoing or, as in the case of Kamil's vineyard, will continue in the coming weeks once the last remaining varieties on the bushes are fully covered with noble rot. Provided, of course, that the sun keeps the rot noble and the clusters will be suitable for processing.
- This year will be the first time we've picked Gewürztraminer for wine, as previously I've only picked fruits to see how the varietal is doing. There, on the left, we have the youngest vineyard planted with two Burgundian Pinot Noir clones. At the bottom of the vineyard, you can see rows of Weissburgunder (also called Pinot Blanc).
- Do you destem grapes before vinification?
- Yes, for now I destem the whole harvest, but in the future I would like to experiment - answers Kamil - You also have to remember that these plants are very young for a vine and in a difficult year like this, when it is not as ripe as it could be, in my opinion it should be destemmed. When I was in Burgundy I had the amazing opportunity to see how scientists work on the extract from the stems themselves, and then I joined some other winemakers in a comparative tasting of wines made from the same plot, some of which were fermented with stems and some were not. It was truly a very interesting experience. However, I believe that in order to experiment, you need older plants and very high maturity of the stems themselves.
We return to the winery, which is impressive - and see four large concrete eggs next to vats made of stainless steel and Slavonian oak. Fermentation is underway in a few tanks, in some other tanks the wine is maturing before being bottled in the coming weeks, and other vats are empty and ready to be filled with the last of the harvest. Smaller barrels for ageing stand next to them - Kamil uses French, Hungarian and Slavonian oak barrels.
- We harvest and vinify Pinot Noir from different parcels separately, then we age them separately and finally I create cuvées of one varietal within one or more labels - says Kamil - This year we will have several Pinot Noir labels and today you will taste two Pinot Noir wines straight from the tanks. I personally believe that the 2020 Pinot Noir will be better than the 2019 vintage, but we will have to wait for the final result. I opted for shorter barrel aging this year to retain more freshness in the fruit. You will notice during tasting that although the wine is still nervy and fresh, it already shows a nice minerality and fruitiness.
When asked about Blaufränkisch wine, Kamil explains that he only wants to make single-varietal wines from this grape variety. The first harvest was in 2020 and the wine is still maturing in the tank because Kamil has very balanced approach to work and does not like to rush - he only wants to release perfect wine that he is really satisfied with. This is an advantage because in the opinion of many people seriously interested in Polish winemaking, a common problem with the quality of wines is that winemakers bottle and start selling wines too quickly.
- I have mentioned several times that 2021 has been a difficult year, but we had a surprisingly good harvest of Blaufränkisch - Kamil adds.
We enter the tasting room on the first floor, which is inviting and feels spacious thanks to a glass wall. On a beautiful big table, made of one huge piece of Suar[iii] wood, there are clay vases, very original and simple in form, and beautiful plates with local cheeses selected for tasting. The vases and plates are made by Kamil's wife, Anna, who is working on her first collection for sale.
We are due to taste wines paired with local products: a range of goat's cheeses from the producer Las Stocki, a few cow milk-based cheeses from Mleczna Droga, bread and a selection of two cold-pressed oils from the Skarby Natury producer in Zabłocie: sunflower and rapeseed oils.
We start the tasting by comparing Pinot Blanc Beton 2019 and 2020, both vintages fermented in a concrete egg. One of the advantages of cultivating Pinot Blanc is that it is one of the earliest ripening vitis vinifera, the moment of harvest is earlier than other varietals so it is easier to plan the work in the vineyard.
- It's not a very aromatic varietal, so I want to bring out the elegance of these wines and show the specific nature of the terroir. I also made Pinot Blanc Barrique, but in the future I would rather make Chardonnay in barrel, because this variety matures more interestingly in oak.
Both wines are ethereal, well-balanced, and we especially enjoy the 2020 Pinot Blanc Beton. It has lower alcohol (13%) and higher acidity, and only 1 gram of sugar.
Kamil likes pairing Pinot Blanc with fish dishes, but he explains that recently he had the opportunity to pair it with Polish forest mushrooms called smardze (morels mushrooms), and at one official dinners a sommelier served this light wine with onion and wild boar pate (which, surprisingly, turned out to be a very interesting pairing).
The third wine we taste is the 2020 Chardonnay Beton, the most important white wine label for Kamil, as he is most satisfied with this wine so far.
- This Chardonnay has a great balance of florality, fruitiness and minerality, and this is the style of wine I intend to make in the future.
The wine has a nice structure and many of us like it precisely because it hasn't been matured in the barrel; it's lighter, fresher and shows more clearly the possibilities of the varietal and terroir. 
Kamil explains that he bought high quality clones of Chardonnay, they have looser clusters and although the yield per bush is lower, they guarantee a higher quality wine.
We ask him how he become a winemaker, where his choice of career came from - especially in Poland where winegrowing is not an easy job - and how it happened that he got internships in Austria and Chile. Kamil explains that it was his father who introduced him to quality wines, both of them admired particularly wines from Piedmont and South Tyrol, but it was Kamil who at some point dared to follow his passion for wine.
- I really wanted to work in Austria, because I think it is a great region when it comes to the approach to wine. Young Austrian winemakers have a lot of experience, gained not only in Austria but also abroad - explains Kamil – I wanted to work at Heinrich Hartl III winery for two main reasons: he grows Pinot Noir and does it on limestone soils, which was an important lesson for me. It turned out that he had an internship available, so my plan succeeded, and Heinrich and I have kept in contact ever since. He was the one who showed me, for example, how wines made from different clones of Pinot Noir differ, how each barrel of Pinot Noir from the same vineyard can be different. Heinrich visited our vineyards twice, once in spring and later during the harvest period, and his consultations were extremely helpful.
- As for the internship in Chile, it was much harder to get there. I sent about 300 emails to wineries and only 20-30 wineries wrote back to me back, some of which I had interviews with. The main problem was the timing - I chose this country because it's a different climate zone, so I could go there when the growing season hadn't started yet. However, I did not want to leave the country for more than three months, and Chilean producers usually look for interns for a longer period of time. I finally managed to work for a well-known producer, the Viña Morandé vineyard, which is now managed by Ricardo Baettig. It was a beautiful experience, I was able to explore the country at the same time, but above all I was also able to experience a slightly different approach to winemaking than the European one.
- There is a lot happening in Chilean winemaking right now, isn't there?
- Yes, there is. There are lots of little boutique projects making amazing wines. When Ricardo heard that I was a Pinot Noir fan, he collected around 16 bottles of Pinot from different wineries and we did a comparison tasting. There are extraordinary things happening in Chile, you can find Pinot Noir fermented in concrete eggs or qvevri - in Chile! - smiles Kamil. - It is definitely not true that Chilean wines are made in a similar style. However, the truth is that the most interesting wines practically do not reach us.
Kamil then serves us another wine, Pinot Noir 2019.
- These are the last bottles, they are practically out of stock already. Fermented on wild yeasts in a stainless-steel vat, then the wine was matured in new oak barrels (Hungarian and French, and 1/3 in Slavonian oak). Additionally, 1/3 of this wine was matured in a stainless-steel vat. We added some sulphur, as I am of the opinion that we need to add small amounts of sulphur to keep the wine fresh for longer. The wine is unfiltered, the purity of the wine is achieved by a process of sedimentation - dropping all the debris to the bottom - and then pulling the wine off the sediment. The grapes were harvested from two clones of Pinot Noir, from an Austrian and French selection.
- I won't be serving Regent Rosé wine today, but I'll just add that the 2020 Regent vines froze so I didn't make any Regent wine of this vintage, and I'm afraid I won't make anything from Regent in 2021.
Kamil explains that in the future he might be tempted to make sparkling wine using the traditional (Champagne) method, but now is not yet the moment for that. He doesn't plan on making the currently fashionable Pét-Nats, as this is not the direction he wants to go in.
He opens another bottle for us, this time a Blanc de Noir, which is a white wine made from the red variety, Pinot Noir. He treated this wine as an experiment - the grapes were picked from a clone of Pinot Noir which wasn't really ripe, so they were too weak to make red wine. The Blanc de Noir turns out to be an interesting, fuller wine than we expected; surprisingly, it's full of notes of ripe apples. The wine, slender and clean, was fermented in a concrete egg and then matured for 6 months on the lees in the egg (no barrel).
- Wines made in concrete eggs are meant to be soaring, baroque and clean, that's the style I want to achieve,' explains Kamil.
- 2021 has been an exceptionally strange and tough year, I even spoke to Heinrich at the beginning of the harvest and he noticed it in his vineyard too. As for Poland, our vineyards are in an exceptionally warm habitat and this year I have observed very good ripeness of the fruit (13-13.5% potential alcohol), but the acidity is overpowering and does not decrease. If I have such high acidity in Pinot Noir, it is likely that other winemakers in other parts of Poland, maybe Europe, will have even more problems with this vintage. Personally, I don't think I'll harvest much of this grape variety this year.
- For red wines I only use spontaneous fermentation (on wild yeast), but for whites I add yeast (especially in such a difficult vintage when I have a lot of losses).
- How do you deal with problems like a tough year, mould, very high acidity? Do you call your more experienced winemakers you are friends with, or do you read up and solve the problem yourself? - I ask.
- In the first years I consulted Heinrich or Ricardo, or a winemaker from Italy who I am friends with, but now I have more experience and they don't know my vineyard, so I try to find the best solution myself.
Kamil decided to bring 3 more wines poured straight from the vat to show us how a product tastes that is not 100% finished.
- I just made 3 barrels of the 2020 Blaufränkisch - in my opinion it is already ready for bottling, although I added some sulphur yesterday and now the wine might seem a bit closed. But in general, I will be bottling it in the coming weeks. I made the Blaufränkisch wine similarly to Pinot Noir: cold maceration before the fermentation in open oak vats. After pressing, a large part of the wine matured for 8-9 months in barrels, while a small part stayed in a stainless-steel vat. 2-3 months ago, I poured the barrel matured part back into the stainless-steel vat. Now the wine is filtering and clarifying naturally. It has a low alcohol content (12%), and I am happy with the structure of this wine, which comes from the fruit itself.
- Yesterday I was pumping the wine from above the lees and on this occasion, we added sulphur for the first time. I add sulphurs to red wines very gently after the harvest and then some more just before bottling. Now I will send a sample to the lab to check the amount of sulphurs, the acidity and what the clarity is.
Unfortunately, the wine will not be called Blaufränkisch, Kamil explains, because it is a name that has been reserved by Austrian producers. Hungarians call this variety Kékfrankos, Czechs - Frankovka modrá, Germans - Blauer Lemberger.
- Therefore, in this vintage, this wine will be called Dobre Modre, and in the future maybe an official Polish name for Blaufränkisch, will be established - the proposal is Frankówka Modra.
We then taste two Pinot Noir wines from the 2020 vintage poured straight from the vat: Pinot Noir Dobre Minor and Dobre Major (named after the historical name of the town, as Dobre was once split into two villages).
Pinot Noir Dobre Minor has a lot of herbal notes, is slightly less mineral compared to Dobre Major, and is also wilder, more unctuous; for now, it tastes like a natural wine.
Dobre Major has a lot more mineral notes, and a distinct saltiness can be tasted in the mouth.
- I am very happy with this wine, in my opinion the 2020 has more potential compared to the 2019 vintage. It is well balanced and has an elegance and complexity to it.
We finish the tasting with a semi-dry Riesling from the late harvest, and although it has a much higher amount of sugar, it is still pleasantly fresh in the mouth.
- Although I like to try and taste wines from different countries all the time, my biggest inspiration are wines from South Tyrol: from a cold climate, very clean and elegant. I would very much like to make such wines - says Kamil. - It seems to me that in the Polish climate, where there is a higher acidity, where we have large temperature amplitudes between day and night which affects the aromatics in the wine, and where we have a long maturation period - which in many regions is now the biggest problem for winemakers - all these things give us a good chance to create interesting wines, or big duds, as may happen in the 2021 vintage.
It's difficult not to share Kamil's opinion after enjoying quality and style of his wines.
[i] Noble rot – A microscopic fungus that grows on grapes (Botrytis Cinerea), which normally causes disease. However, in favourable weather and climate conditions, an attack of botrytis does not cause grey fungus, but white fungus to grow on the skin, which is known as noble rot. It damages the skin of the grapes, causing some of the water in the grape to evaporate. The grape slowly dries out, increasing the concentration of flavours and sugar in the water. After fermentation these concentrated grapes create a noble, sweet wine full of aromas and with a rich taste (source: Winicjatywa).
[ii] In organic farming it is not permitted to use chemical pesticides which go inside the plant itself. It is permitted to use natural products which only affect the surface.
[iii] Wood from a tropical rain forest in Indonesia, also called Albizia Saman or Monkeypod.
[iv] This vintage of Pinot Noir won third place in the "Polskie Korki" competition in 2021, even though the wine was very young at the time of the competition.