Blog
Flirting with Barbera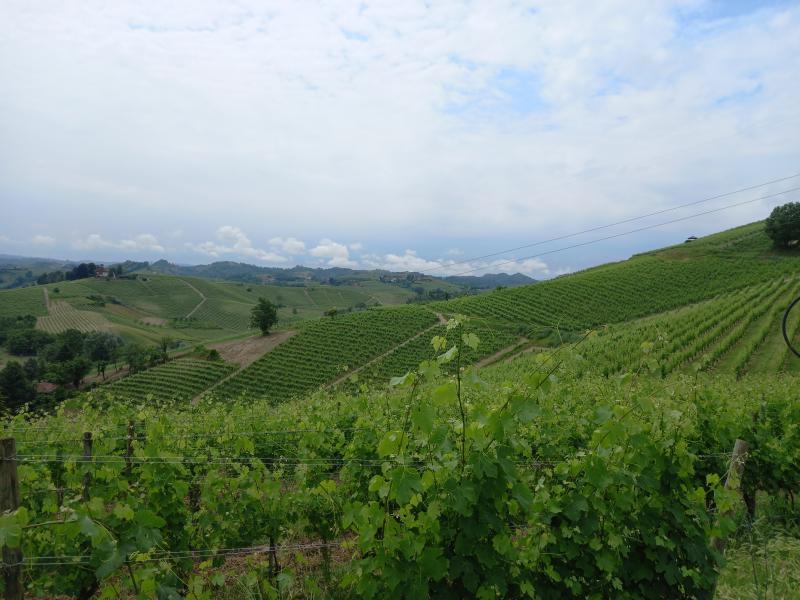 The first morning in Piedmont started in a tourist-mode, with a short visit to Monforte d'Alba, where together with Danish journalist and editor Jørgen Aldrich, we were enjoying a late spring morning waiting for the other wine-writers to arrive. After several months of isolation and limited travelling opportunities being able to enjoy this coffee at leisure al fresco in a small Italian town felt like a return to the old reality. Close your eyes and you could hear the melodic sound of the chatty Italians sitting next to us, smell the unmistakable aroma of espresso and enjoy the flavour of hazelnut gelato. The sounds and aromas of small Italian towns are incomparable with anything else.
I spoke with Jørgen about many things, not just wine, although of course that was the main subject. He is an experienced journalist who has visited hundreds of wineries around the world and actually became a wine-journalist by chance. One year, in the 70s, after returning from a holiday trip through France, Germany and Italy, he wrote an article about the winemakers he had met and the wines he had tasted during his holiday. This article was so well received that the newspaper received lots of letters asking for a more in depth look at the topic.
The editor in charge persuaded Jørgen to explore the subject of wine culture and to find answers to the readers' questions and use it as the basis for a new article. So Jørgen started to search for detailed answers and once the second article had been completed, he wrote another one and thereby created a new column "Et godt glas"(A good glass). Jørgen's articles on wine were published without interruptions once a week for over thirty five years (from 1973 to 2008) in Fyens Stiftstidendes (one of the biggest Danish daily newspapers and writing that column was an addition to his regular work as a subeditor and later foreign editor, opinion editor and writer of editorials).
On that quiet morning in Monforte d'Alba, Jørgen told me, along with many other things, that he had rediscovered Barbera – for the last 30 years he's been observing how winemakers in Piedmont have been experimenting with this grape variety, changing the way of its vinification, and aging. Jancins Robinson has described the transformation of wines made from Barbera as "dramatic".
Jørgen mentioned that when he started to visit Italy he was not able to drink Barbera wines, finding them almost coarse, uninteresting, and not enjoyable with their harsh acidity – in this case the taste could be described as sour – and it was difficult to write something positive about them.
The main reason for the low quality of Barbera wines was the quantity of plantings – in Piedmont, Barbera vines were grown practically everywhere; the quality of a soil and exposition of the plot were not important (the best parcels were usually planted with Nebbiolo grape variety). Barbera is easy to grow with a very high yield and these were the important factors in those days – winemakers produced everyday house wines from Barbera.
This was until one day in the late 90s, when Giacomo Bologna from the Braida winery decided to invest his time and experience to make another type of Barbera – he limited the quantity of bunches on vine bushes, he picked grapes at the best possible moment and he used small French oak barrels (barriques) for aging. His Barbera Bricco dell'Uccellone was very well received, both by the market and by wine critics, and as a result other winemakers working with Barbera followed his lead. The oak helped to temper the very high acidity which is characteristic of Barbera grapes, to build a better structure, to express low tannins and add extra aromas (Barbera isn't a very aromatic grape variety). In addition to sour cherry and blackberry aromas, the wines gained pleasant spicy notes with a hint of vanilla and liquorice.
However, wine producers started to notice that if the Barbera was not originally aromatic, using oak often overwhelmed the light fruity aromas and as result many of the older Barberas lost their notes of fresh fruits to heavier vanilla and undergrowth flavours. Therefore, experimentation with this variety continues, with winemakers concentrating on lower yields and the quality of the grapes, and Barbera often being planted nowadays on much better parcels with sunny exposition. The wines are aged not only in barriques, but in bigger botti or stainless steel tanks. Some wine producers prefer to blend Barbera with other varieties growing in Piedmont like Cabernet Sauvignon, Freisa or Nebbiolo, and in the south of Italy Barbera is used in blends as its high acidity balances well with heavy jammy aromas which are characteristic of the local varieties.
In general, Barbera wines taste better when drunk young (2-3 years after being released), but of course there are examples of fantastic old Barberas which provide balsamic, Nebbiolo-like notes on the palate with age.
Although the beginnings of Barbera go back to 13th century, and the grape is mainly associated with the Monferrato area, the best parcels of Barbera are located on slopes near Alba and Monforte d'Alba, and in Asti.
The main appellations are:
Barbera d'Alba DOC,
Barbera d'Asti DOCG (i subzone/sottozona Nizza DOCG),
Piemonte Barbera DOC,
Barbera del Monferrato DOC i Barbera del Monferrato Superiore DOCG,
Colli Tortonesi Barbera DOC (sottozona Monleale).
We can also find Barbera wines in Slovenia (Primorski region), in the USA (California), in Australia (mainly in the state of Victoria) and in Argentina (Mendoza and San Juan), as well as in South Africa, in the Fairview region.
This still unappreciated grape variety, which is often unnoticed by many customers, is described as one of the most gastronomic Italian wines. Medium-bodied, with high acidity and low tannins, Barbera wine can be easily paired with many dishes and is pleasant to drink even for inexperienced customers (especially compared to other more powerful and complex Piedmont wines), plus it is good value for money. So it's worth searching for your own favourite Barbera, you might be surprised by the selection.
During our 5-day-wine-tour we tasted many Barbera wines, and I must admit it's not easy to describe what a characteristic Barbera is. Starting with its appearance, many Barberas have a deep ruby colour, while those tasted in the Collie Tortonesi appellation had more purple reflections, matching the blueberry flavour on the palate. Barberas from the subregions Roero or Alba expressed more sour-cherry and raspberry notes and flavours. I found them more elegant, although more full-bodied. It's worth mentioning that in the Asti area Barbera is planted on the best sites, so the local Barberas are lovely, unoaked, juicy, with fresh fruity aromas. In Asti Barbera has DOCG status, whereas Barbera d'Alba does not.
From all the wines we have been tasting and discovering during this 5-day-tour, these are the wine I like to taste again and to share it with my friends and guests during tasting (no particular order).
Nizza Barbera from Castello di Perno – you smell cherries, herbaceous and light earthy aromas. The wine was aged 14 month in tonneaux (big French barrels), then spent some in concrete tank and was refining min. 6 months in bottle.
Barbera d'Alba GD Vajra – pleasant and round Barbera with raspberry and cherry notes, easy to pair with food
Barbera Freisa GD Vajra – very interesting blend of Barbera d'Alba and Freisa, two typical Piedmont varieties. Freisa add light rose and tomato leaf notes, plus extra structure to the wine.
Barbera d'Alba Enrico Serafino – this is how I imagine a classic Barbera with its sour-cherry notes with hint of blueberries. Very pleasant acidity and round wine, easy to pair with food.
Barbera d'Alba Malvira – also classic style of Barbera, and we had an occasion to taste Barbera D'Alba Superiore San Michele 2004– it's a perfect example that some Barbera can age, demonstrating balsamic-undergrowth flavour.
Alfiera Barbera d'Asti Superiore Marchesi Alfieri 2018 – this wine will be on the market in September 2021. Grapes were harvested from their Cru parcel called Alfiera (hence the name of the wine), where vines were planted in 1937. Purple reflections correspond with notes of blackberries on the palate. Pleasant and round tannins.
Barbera d'Asti Superiore Bava – pleasant Barbera with deep Purple colour and slightly jammy flavour of plums. Unfiltered (they don't filter Barbery Superiore since 1997), smooth, fresh fruit.
Misterium Barbera d'Asti Superiore Tenuta Montemagno – grapes from their oldest vines were harvested a bit later than grapes for other Barbera wine. Deep purple colour, notes of cherries and blueberries with hint of tobacco and chocolate. Velvety structure, pleasant acidity.
Barbera d'Asti Superiore Adriano Grasso – natural Barbera, wild-yeast fermentation; complex and round wine with notes of dark plum, cloves and well-balanced acidity.
Elisa Barbera Colli Tortonesi La Colombera – Purple reflections in the glass, aroma of cherries, blueberries and herbs. Nice structure, well balanced acidity.
La Zerba Barbera Superiore Colli Tortonesi Cantine Volpi – another Barbera made from the old vines. Pleasant, fresh, with purple-like reflections and blueberries aroma. Fermentation in stainless steel tanks, then wine age for 13 months before being released on the market.