Blog
I Vini del Piemonte - interview with Nicola Argamante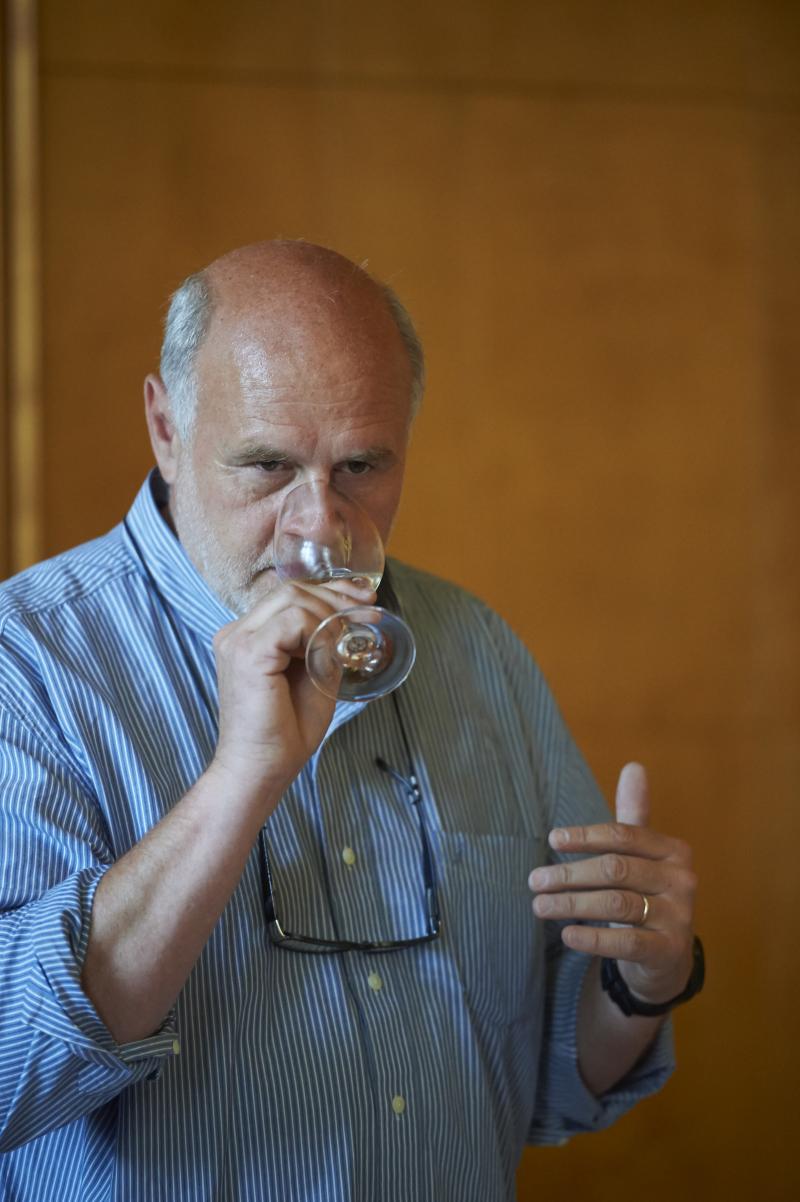 On the 1st of June 2020, several wine producers from Piedmont, representing the organization I Vini del Piemonte, will host the first online tasting dedicated to the Polish wine industry. Wine importers, restaurant managers and specialist store owners are invited to join this strictly professional and very limited event. Guests will have the opportunity to taste wines from smaller, artisan wineries and to join B2B online meetings with those producers.
I had the pleasure of asking few questions to Nicola Argamante, the president of  I Vini del Piemonte and wine producer, owner of  Podere Ruggeri Corsini in Monforte d'Alba, so if you would like to find out more about the reason why I Vini del Piemonte has been created, and discover more about wine from Piemont, enjoy reading the article and watching this short beautiful video: https://bit.ly/3dY3eP4.
I would call myself a very open-minded wine lover in terms of appreciation of wines from very different parts of the world and of different style. It would be impossible for me to choose a favourite grape variety or wine, as the choice is so fantastic and every year there are new wines/producers/regions to discover and learn about.
However, from the very early stage of my interest in wine culture, I've been impressed by the quality and diversity of wines made from indigenous Italian grapes.
So naturally, I've been attracted to wines from Piedmont - one of the wine regions producing top quality wines (including Barolo or Barbaresco), which are well-known and keep winning awards all over the world. Despite this, in Poland the recognition of wines and grapes varieties from Piedmont seems to be relatively low, especially compared to wines from Veneto, Tuscany or even Sicily. So, how much do we actually know about these amazing, elegant wines?
Anna Kruszczyńsa (AK):
Iwould like to start with a general question about wines from Piedmont, which are so well-known by specialists, chefs and many wine lovers all over the world. When did this phenomenon start?
Nicola Argamante (NA):
Piedmont has always been well known and appreciated among wine connoisseurs: the first exports of wines from Barolo to the United States date back to the late 1800s. In general, on the more mature markets, Piedmont has always gone head to head with Tuscany: the popularity and appreciation of the region have grown a lot since the 1980s.
AK: The history of wine making was always linked with the food industry – we appreciate many wines more when served together with food. In Italy, where there are hundreds of indigenous grapes and local recipes, wines are often consumed locally - wines from a particular region best match food from the same region. So how come wines from Piedmont are so appreciated by chefs and customers from other countries?
NA: The vast majority of Piemontese wines are produced with indigenous grapes and these are wines with a lot of character (plenty of tannins and high acidity) that go well with full-bodied foods: this is the reason why many chefs around the world love to combine their dishes with Piedmont's wines. And then with the great variety of different vines and wines in Piedmont, the possibilities are endless!
AK: What makes wines from Piedmont so special – apart from their great acidity and structure, aging potential and elegance?
NA: These are the main characteristics of Piemontese wines, in addition to the fact that they are almost always produced with indigenous grapes, as I said before. This means that they are very different from each other, with their very precise and distinguishable character, so in contrast to traditional wines made of Merlot, Cabernet Sauvignon and Cabernet Franc.
AK: And what is the reason why white wines from Piedmont are still less known, at least outside Italy?
NA: Like the reds, Piemontese whites also have a strong character: they are not like the classic light white wines suitable for those looking for a thirst-quenching drink; therefore our wines might not seem so easy to approach at first. However, because of their characteristics, Piedmont whites have always been appreciated in the most mature markets: for example, white wines from Piedmont are very popular in Germany, especially Arneis; whereas London has always been one of the most important markets for Gavi. In recent years we've also noticed a constantly increasing interest in white wines from Piedmont in less mature markets. In Italy, our whites wines have always been very popular.
AK: What is the best food pairing for white wines from Piedmont which you can suggest outside Piedmont or Italy?
NA: Due to the characteristics I have mentioned before, Piemontese white wines also go well with main dishes, not only aperitifs. For example, here in Piedmont we often combine them with risotto. Abroad, a very popular pairing is fish dishes, so we sell a lot of white wines in countries where the consumption of fish is high; for example in the Scandinavian countries.
AK: The organization I Vini del Piemonte was created by wine producers from Piedmont, including yourself, and now over 230 producers are members of this association. What was the main idea and purpose behind this project?
NA: The idea and purpose of our project was to achieve a sufficient "critical mass" to make events only with Piemontese wineries in order to be able to present ourselves worldwide as just the Piedmont wine region.
AK: What sales and marketing approach is used to promote Piedmont's wines in different countries?
NA: In more mature markets the product is already well known, so the producers "just" have to look for customers. Instead, in the so-called "new markets" (such as Poland, for example), it is necessary to first make the product known and then look for customers.
However, each market has its own specific characteristics: in the USA, for example, it is very important for the producer to accompany the importer/distributor on visits to restaurants, enotecas, wine bars etc. In Denmark it is very different, because it is a smaller market, where the importers are able to promote wine even without the presence of the producer. The approach in countries where there is a monopoly is different again...
AK: How much can famous names - winemakers, wine producers, the opinion of well-known wine specialist or chef – help to promote Piemontese wines, and how important is it to use different marketing technics?
NA: Famous names can help to promote consumer products (lower price range wines), but for niche products from small artisan producers - like the members of I Vini del Piemonte - it is not relevant, just as the marketing techniques are not: the quality of the product and the name of the winery are much more important. To give you example: consumers buy my Barbera d'Alba because they love my Barbera d'Alba, not Barbera d'Alba in general. For us the personal relationship is very important: giving consumers the possibility to meet the producer personally.
AK: Do tourist organizations help winegrowers to promote local wines?
NA: For our region, where there are many small producers who make high quality wines, in a territory rich in tourist attractions also recognized by UNESCO, the contribution of wine tourism is very important: many of our wines are sold from the cellar. So tourism promotion is essential to sell our wines.
AK: How much support does I Vini del Piemonte receive from marketing specialists, market analysts, local authorities and tourist organizations?
NA: We have different partners depending on the countries in which we operate: we are often supported by the Italian Embassies, by the ICE (Italian Institute for Foreign Trade) offices and by the Italian chambers of commerce abroad. We also have a very close relationship with the Barolo Wine Route because, as I said before, the link with tourism is very important to us: we need consumers to come to visit Piedmont and the cellars.
AK: What kind of events do you organize worldwide to promote your wines?
NA: Our tasting events are made exclusively for Piemontese wineries, with separate sessions for trade and consumers. In addition to a "walk around tasting", where the individual customers can taste wines presented by various producers (who always present in person at these tastings), we also organize masterclasses on specific topics, with an expert speaking to a restricted audience.
AK: Who can assist you with the project?
NA: As I said before, we have different relationships with local partners in the various countries: for us it is essential to collaborate with someone who knows the local market very well.
AK: Nowadays, we can observe a strong international movement towards natural, biodynamic, organically produced wines. Sustainability in all farming (including viticulture) is very important. How many winemakers and producers in Piedmont have changed their approach to winegrowing and winemaking process?
NA: In Piedmont, especially on small farms, there is a big movement towards natural wines: many producers are researching and experimenting with organic, biodynamic, natural methods etc. But this concerns almost exclusively a vineyard;  a winemaking process has not been affected, probably because here, in Piedmont, we have powerful and structured wines, therefore there has never been a need for strange alchemy in the cellar.
AK: How has the style of wines made in Piedmont changed the last 10 years?
NA: Over the past 10 years very little, but if we consider the last 20 years, the changes are quite evident: today we make wines that can age for a long time, but they are also suitable for drinking young. This is because we have had to adapt to climate change.
Furthermore, today we try to valorise much more the varietal characteristics , for example by avoiding the use of new barriques...
AK: I personally love monovarietal wines (of course there are many fantastic and surprising blends), buy I read that in Piedmont more and more producers are planting all kinds of varieties to blend them with local grapes. Is this true and what is the reason for that? Experimentationing? Climate change? The need for change to meet customers' expectations?
NA: No, it was only a passing phenomenon that took place in the 90s, but was immediately reversed because consumers look for "Piemontese character" in Piemontese wines and not international character. The SuperPiedmont (equivalent to the SuperTuscan) has never caught on: for us wines must not look alike, they must all be different from each other, this is why we try to enhance the characteristics of the varieties.
AK: With this new situation we find ourselves in and the limited opportunities to travel and organize events, how do you approach your role? What kind of ideas for online promotion do you have and what kind of local help would you need?
NA: These new ways of online promotion are more useful in the markets where we are already present and much less in new markets. In the countries where the recognition of our wines is wider, wine shops are already doing live online tastings, involving producers remotely. Elsewhere, such as in Poland, we must first promote the wines, then we can organize online tastings... On 1st June in Warsaw we will experience a "virtual" tasting event the first time, with producers connecting from home. However, the wines will be there and the participants will be able to taste them!
AK: What is your experience with online tastings/online event promotin so far?
NA: In Italy I never did online tastings (although there is much more interest abroad): here people like to go directly to the cellar... Instead, in large metropolises, such as New York or London, online tastings work very well!
AK: How do you foresee the changes in the wine industry, but also in general in the hospitality and in the restaurant industry in the coming months/years?
NA: In Italy, the hospitality and restaurant sectors are already preparing to welcome customers safely starting this summer. Anyway, I believe that once we have defeated this virus, we will be able to welcome wine lovers from all over the world again, just as we did before.
AK: Thank you for this interesting talk and good luck on the 1st of June!
To know more about the organization I Vini del Piemonte, follow their website: http://www.ivinidelpiemonte.com/en/chi-siamo/
and check this short promo video: www.youtube.com/watch?v=YrCi__ezL1k&t=172s
All pictures by courtesy of Mario Ferrero from I Vini del Piemonte.