Blog
Walking through vineyards of Aÿ (Champagne region, France)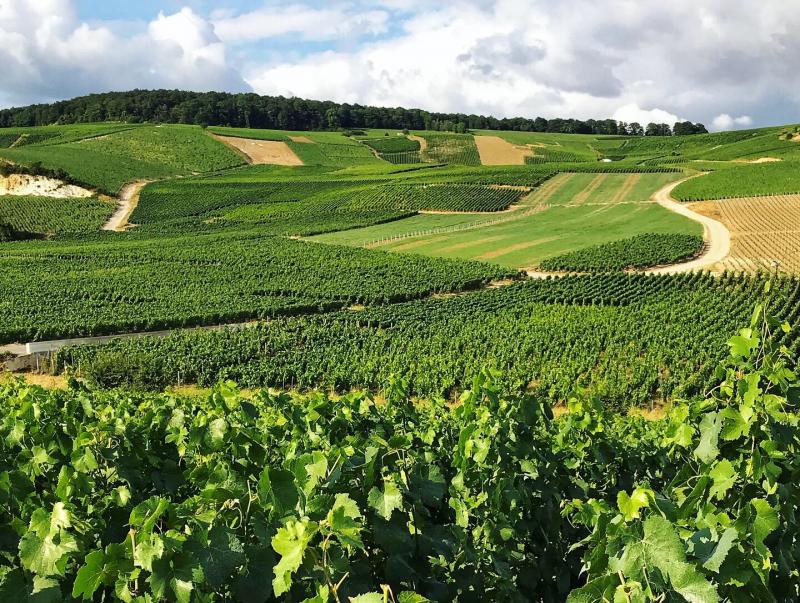 A walk in the vineyards of Aÿ last weekend. The Larmat's map of the vineyards of la Vallée de la Marne in my hand, the green 'sea' of vines stretching to the horizon, the sun peeking out from behind the clouds...
I was walking past famous parcels. Clos Saint-Jacques and Chaudes Terres, with their vines planted in the 19th c. that survived unscathed the phylloxera crisis and that produce grapes for Bollinger's 'Vielles Vignes Francaises'. Somewhere there is also La Côte aux Enfants producing Bollinger's amazing red wine. Then there is La Côte Glacière and just above it Meurtet, both selected by Deutz first to produce Hommage à William Deutz 2010 and then, in 2012 released as 2 single-vineyard cuvées. Vintage 2015 will be produced in 3 versions: 2 lieux-dits and a blend of the 2. I walked uphill to reach La Côte Faron and see where the eponymous Selosse champagne comes from and to admire the view towards Aÿ.
An idyllic walk? Not really.
As I was walking through the vineyards, I saw many sad sights. I saw compressed soils that looked nearly barren from overuse of herbicides. I heard total silence because birds and crickets so loud in the vineyards nearby seemed to avoid the plots with no life in them. There should be life and energy in the vineyards but some of those parcels looked dead and uninviting.
It's good to see where the wine comes from. For a long time I have been selective about what I drink, choosing organic wines most of the time because of vibrant energy in them; after having seen those vineyards I'm more and more convinced that I want to stay away from those producers who do not make responsibility for the environment their priority.
It is not my objective to drink all the prestigious champagne cuvées or all the legendary vintages. Instead, I prefer to discover those winemakers who love their land and their vines who show respect for nature. And this, in so many cases, means great wines as well.