Blog
Tokara - visit amazing winery in Stellenbosch Mountians, SA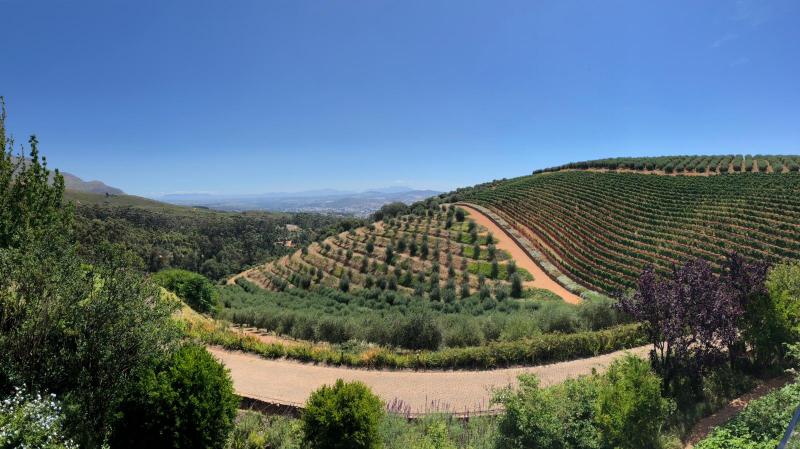 Tokara – one of the most beautiful wine estates I visited while travelling through wine regions and subregions in South Africa. It's a complex and very tourist-friendly wine estate divided in two independent parts, located in Stellenbosch Mountains. The first building you see when getting there is where the winery itself is located. The building is modern, has two floors: on the ground floor, which is dedicated to visitors, you find a tasting venue with a wine store and a restaurant. When entering the building, you can see steel vats and part of the winery which is on the underground level. The restaurant is always busy, so don't forget to book a table before visiting, or just have a stroll around the estate and enjoy wine tasting while waiting for a table.
Or you can just skip lunch in the restaurant and walk through the garden and the coppice full of olive trees to the other part of the estate, their Deli (for less-keen walkers, you can drive there). Walking through the estate is always a pleasure, but in Tokara they are really well organized – there is even a special selfie-spot with the best panoramic view of the estate. 
Deli Cat Essen and Olive Shed in my opinion are more cosy and relaxing parts of the estate, although also pretty busy. It's seriously a very nice place to stop for lunch. Food is fresh and delicious, easy to match with one of their wines. For me, a glass of very crispy and nicely build sparkling MCC Blanc de Blancs* was a perfect appetizer, followed by fresh calamari salad. Among wines produced by Tokara, one of my favourites is their Noble Late Harvest, with rose and fig aromas, nice acidity and long finish. Excellent option for a dessert.
In the Deli shop you will find a whole range of home-made and local products: olives, olive oil, wines, cheeses, soaps, cosmetics and many more treats. Tokara Wine Estate is for sure pretty high on my must-return-there-one-day list.
*[MCC, short for Méthode Cap Classique, is the name given to some South African sparkling wines which quality can be compared to wines produced in Champagne]. This type of sparkling wine gets more and more popular as it is more affordable comparing to Champagne.