Blog
Tradition and change - still wines from Champagne
Written by:
Paweł Białęcki (translation Anna Kruszczyńska)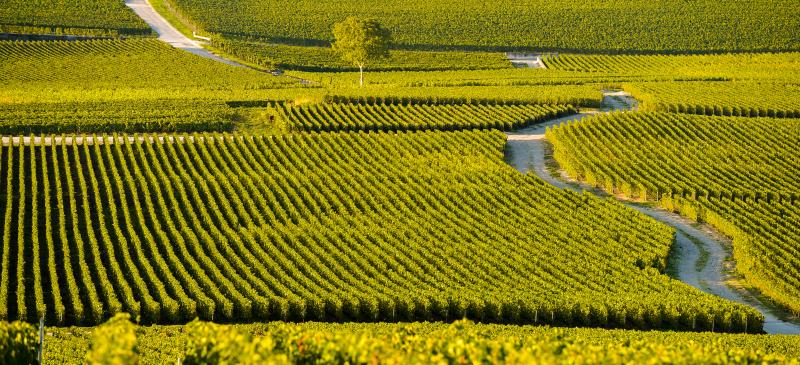 Louis Roederer, one of the most well-known and prestigious champagne producers in the world has decided to release still wine this year – and not just one still wine, but two. One white and one red.
'Hommage à Camille', as this series of wines is called, includes a Chardonnay and a Pinot Noir and is in honour of Camille Olry-Roederer, the great-grand mother of Frédérica Rouzaud, the present owner of the Louis Roederer Champagne House.
The wines were made from grapes that come from Grand Cru vineyards: The Pinot Noir grapes are harvested in Charmont lieu-dit in Mareuil-sur-Aÿ, while the Chardonnay grapes come from the plot located in Volibarts in Le Mesnil-sur-Oger. That is why the wines have the names Camille Charmont and Camille Volibarts respectively. The total production is 4500 bottles.
At the Louis Roederer Champagne House, the history of experimenting with still wines started in 2002, according to cellar master Jean Baptiste Lecaillon, and was inspired by the memory of Camille, who was an exponent of still wines.
The premier of these two wines makes one wonder about the general idea of producing still wines in the Champagne region - was this a common practice? Well, no. In fact, since sparkling wine become the flagship wine of the Champagne region in the 17th century, the tradition of producing still wines in Champagne practically only survived in the region of Bouzy, until the new appellation, Coteaux Champenois, was finally created for still wines.
Before 1974 (the year in which the Coteaux Champenois appellation was approved) some producers from Champagne did make still wines under different names: for example Vin Originaire de la Champagne Viticole (created in 1930), which in 1953 changed its name into the Vin Nature de la Champagne. Today, Coteaux Champenois is one of three appellations existing in the Champagne region.
However, even after the registration of the Coteaux Champenois appellation, still wines were not even a niche production in Champagne, but treated like "laboratory vapour". Only few champagne producers decided to experiment with still wines, including Moet & Chandon with their still wine brand Chateau de Saran, or Les Cote aux Enfants by Champagne Bollinger House; Benoît Lahaye and René Geoffroy and few others also created limited editions of still wines.
Nowadays more and more champagne producers occasionally make still wines – especially smaller, independent producers like Jules Brochet, Jérôme Coessens, Jacques Lassaigne.
So, what has changed? Well, we've changed, and so has our environment. The effects of climate change are more and more noticeable (we feel it on our skin, applying industrially made skin-care products, the production of which is causing, along with many other things, the effect that we feel). Customers have a preference for change. We are always looking for something new, unknown, undiscovered. Winemakers try to meet – wearing face masks, of course – our expectations, making still wines to be made in the warming climate of Champagne,  Syrah in Alsace and probably soon Grenache in Germany.
The Maison Trimbach, the most prestigious Alsace wine producer, admits to cultivating Syrah in their vineyards in Alsace. For future generations. So, will the climate of the Rhone Valley soon be typical for Alsace too?
Maybe soon the day will come when we no longer taste a chill, fresh and robust Germanic Riesling in our throats, because the vineyards of our western neighbours will be full of Chardonnay, and instead we will look for Riesling in Ostrołęka. And, squinting our eyes in the sunlight, we will murmur "Oh Lord, Polish wines are so flat and lifeless".  But are they really?
*Alas, according to the information from the Louis Roederer Champagne House, we won't be able to buy Hommage à Camille wines on the Polish market, as this is very limited production and the bottles will be send only to the few selected countries. We received, however, the detailed description of their still wines – maybe the information will inspire some of us to search for these rare bottles while travelling to France or Germany.
**Pctures of few Coteaux Champenois wines were taken by  Małgosia Machajska, during different wine tastings in France.